The Classic Roy Orbison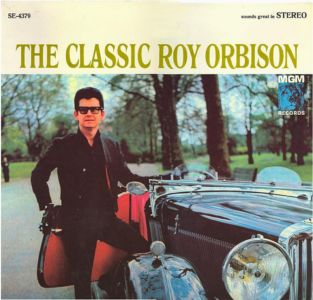 While most singers get by as performers of material created by others, there is a growing army of artists whose repertoire is sustained mostly by their own songs. This unique talent of singing on a professional basis one's own handiwork has evolved the modern- day minstrel of popular song, often as colorful and certainly more well-traveled than his ancestor of yore.
Roy Orbison, among the most striking of today's minstrels, is a strong case in point for those who contend that writers of songs are their material's best vehicles (e.g. many a Broadway musical has won over investors or "angels" simply on the basis of the writers' charm in putting over their songs). There is a good deal of logic in support of this. As for Roy, there is a great deal of sensitivity within the framework of many of his stories in song, perhaps striking a personal note that only Roy fully comprehends. Sometimes an artist is lucky enough o get the sense, in part at least, of a subtly meaningful phrase in a song from the author himself. With Roy as creator and performer, nothing can be lost in the "translation," so to speak. On the other hand, as a writer himself, Roy is better equipped than most artists to get closer to the heart of the matter with a song not of his own making.
Whatever the source of Roy's material, his performances imbue each song with a validity and identity that are the hallmarks of something that Roy himself may have created.
As his many fans know from his recordings—which now span close to a full decade—and his "live" appearances, Roy is a master at dramatic, intense confrontations with ballad material, and his themes are usually geared to bring his renditions to a striking, hard-hitting climax.
It is Roy's flair for the dramatic—in his songs and the natural follow-up in the manner in which he portrays them—that in this writer's estimation makes him such an international favorite. Even without a knowledge of English, his fans in non-English speaking countries can sense that Roy is slamming home a telling emotional point. Striking a common emotional chord is really the meaning behind the familiar phrase: "music is an international language."
For Roy, music is obviously a passion. He can be counted among the fortunate talents of this globe who can transform a passion into a medium of exciting entertainment—as a modern-day minstrel.
Irv Lichtman, Editor-In-Chief
Cash Box Magazine