Efter RCA Victor anbefalede Wesley Rose Roy til det nyligt dannede selskab Monument Records Company, der lå i Nashville. Her skrev Roy kontrakt med ejer og producer Fred Foster. De skrev kontrakt i sensommeren 1959, og det skulle vise sig at blive et meget frugtbart samarbejde, selvom det ikke så sådan ud i starten!
Monument startede med at lease Paper Boy og The Bug fra RCA, og den første session blev planlagt. Da Roy skulle ankomme til den første session med Fred Foster, var der problemer med flyafgangene, og de mødtes faktisk først da det hele var overstået.
Double Date fra den første session hos Monument blev aldrig udgivet. De ny indspillede Paper Boy og The Bug, som blev omdøbt til With the Bug hos Monument, blev brugt til den første single 45-409 og udgivet i september 1959. Den solgte dog begrænset 15.000 eksemplar, og bekræftede mere eller mindre RCA's beslutning om ikke at beholde Roy.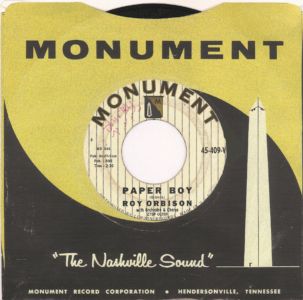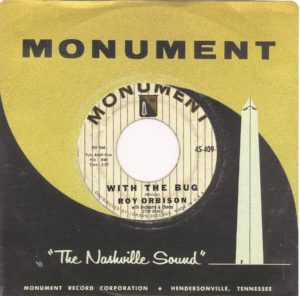 Der var dog noget helt andet omkring denne indspilning, end det man havde hørt på både SUN og RCA indspilningerne; Roy's stemme var blevet dybere.
Roy mødte sangskriveren Joe Melson, og de besluttede sig for at begynde at skrive sammen. Ikke længe efter det første mislykkede forsøg var Roy i studiet igen til hans anden session, og indspillede ved denne lejlighed sangene Up Town og Pretty One. Det skete under ledelse af Fred Foster og akkompagneret af kor og orkester under ledelse af Bob Moore. Up Town var skrevet af Roy og Joe Melson og Pretty One var en ballade skrevet af Roy. De blev udgivet på singlen 45-412 i november 1959.
Fred Foster havde endelig mødt Roy, og havde nu produceret de første sange for Roy. Fred Forster fortalte om dette:
"Orbison has a magnificent talent; he is the opposite of the European's conception of an American."
Og han fortsatte:
"…Roy is not brash, rude or haughty, he is a gentleman and there is some mystique in his dress, he wears all black and has dark hair."
Singlen 45-412 blev et stort hit, og kom på hitlisten hvor den toppede som nummer 72 på Billboard's Hot 100 i slutningen af 1959.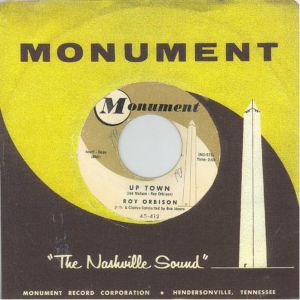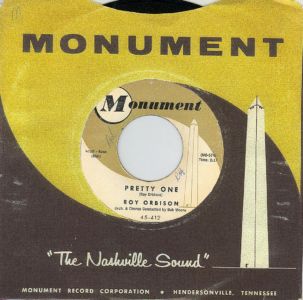 Roy følte, det var fantastisk alt sammen, og der begyndte efterhånden at blive nok at se til for Roy og Melson. Roy og Melson skulle vise sig at skrive musikhistorie i starten af 60'erne. De havde netop afsluttet adskillige sange, hvoraf en af dem skulle går hen og blive Roy's første millionsælger.
Roy havde dog ikke nogen intention om at indspille Only The Lonely selv og husker:
"…what we did was this. Joe Melson and I wrote the song and we were on our way to Nashville. We had two or three other songs. So, we stopped by Elvis Presley's house, 'cause he had just gotten out of the Army. It was early in the morning and I had driven from West Texas we got there about six in the morning, so I sent a note by the gateman, and he sent a note back saying that he had the whole troop in there, at 'Graceland', and they were all still asleep, that he would see me in Nashville. So, I wanted to play him the song, and had he heard the song and wanted it, he could have had it."
Da de ankom til Nashville, kunne Roy og Joe ikke modstå fristelsen og tilbød Only The Lonely til The Everly Brothers.
Roy forklarede:
"…then, I played it for Phil, and I'm not sure whether he thought I was pitching it to him or not. I just played it for him because I was proud of it. Had he wanted it, he could have had it."
Heldigvis for Roy, havde the Everly's selv lige skrevet et nummer.