En millionsælger på Monument Records
Roy tog til Monument Records studiet med sine sange, og indspillede Only The Lonely i første forsøg. Den havde dog nogle interessante muligheder. Joe Melson og Roy havde skrevet tre sange, nemlig Only The Lonely, Come Back To Me (My Love) og Blue Avenue. Før de var gået i studiet havde Roy sunget sangene for Fred Foster, der var meget fascineret, og han fortalte:
"I'll tell you what you ought to do, Roy. You have this great, little thing in the tune Come Back To Me (My Love) that goes 'dum-dum-dum-doo-wah-wah'. Put that in Only The Lonely and let's see if it works."
Roy var noget skuffet over udmeldingen. Han mente originalversionen havde store muligheder, men indspillede sangen på den måde Foster havde foreslået, og efter at have lyttet til den nye version, vidste Roy at den ville kunne blive et hit.
Only The Lonely/Here Comes That Song Again (Dick Flood) blev udgivet i maj 1960 på Monument 45-421. Det var hans tredje single på Monument Records.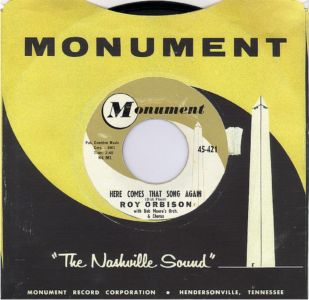 Han følte at Uptown, der havde solgt over 75.000 eksemplar, var god, men den nye single solgte over to en halv million eksemplar, og toppede som nummer 2 på Billboard's Hot 100. Den gjorde det fantastisk på verdensplan, hvor den blev nummer 1 næsten overalt. Det var hans første guldplade og et kanon hit ikke kun i USA, men også i det meste af Europa og i lande som Australien og New Zealand.
Roy blev udnævnt til 'Den bedste kunstner i 1960' og var lidt bekymret over alt sammen. Han begyndte også at tænke over hvor længe det ville blive ved, og hvad der skulle til for at følge op på succesen. I mellemtiden var Monument Records ved at gøre klar til at udgive det første af to album med Roy's materiale. I mellemtiden blev singlen Blue Angle/Today's Teardrops udgivet i september 1960 på Monument 45-425.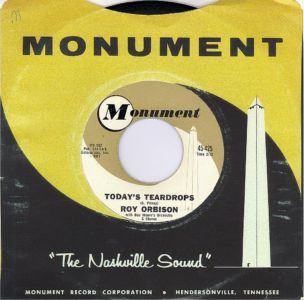 Blue Angle var skrevet af Roy og Joe Melson, mens Today's Teardrops, der var en hurtig sang med tempo, var skrevet af Gene Pitney og Aaron Schroeder. Begge sange var med orkester og kor under ledelse af Bob Moores og hans orkester. Produktionen blev foretaget af Fred Foster. Blue Angle var en sød lille ballader, der gik til tops over hele landet og toppede som nummer seks. Dette var Roy's anden millionsælger og guldplade i træk.
Monument Records udgav Roy's første album i slutningen af 1960 og titlen var såre simpel Roy Orbison Sings Lonely and Blue (M 4002/SM 14002).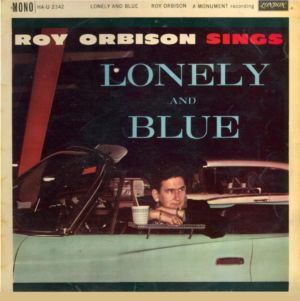 Albummet solgte fornuftigt for Roy og Monument Records og indeholdt følgende sange: Only The Lonely, Bye Bye Love, Cry, Blue Avenue, I Can't Stop Loving You, Come Back To Me (My Love), Blue Angel, Raindrops, (I'd Be) A Legend In My Time, I'm Hurtin, Twenty Two Days, I'll Say It's My Fault.
Roy var nu begyndt at tjene godt med penge, og valgte at flytte til et nyt hus i Hendersonville i Tennessee. Under alt den virak, der var omkring det første album og den stadige succes, der fulgte singlen Blue Angle, begyndte b-siden Today's Teardrops stille og roligt at kravle op af hitlisten. Roy havde scoret et dobbelt hit med denne single. Han havde kombineret en ballade med en sang med tempo.
Roy's tidligere pladeselskab SUN Records prøvede at ride med på bølgen af succes ved at genudgive Sweet And Easy To Love/ Devil Doll (SUN 353) i en version med overlægning i november 1960. Det var dog uden den store succes. Der blev også udgivet et album med sange som Roy havde indspillet mens han var på SUN Records.
Albummet Roy Orbison At The Rockhouse SUN 1260 indeholdte sangene: This Kind Of Love, Devil Doll, You're My Baby, Rock House, You're Gonna Cry, I Never Knew, Sweet And Easy To Love You, Mean Little Mama, Ooby Dooby og Problem Child.