SUN Records
I løbet af få uger efter Ooby Dooby var udgivet, var den ikke kun kommet på Rythm and Blues hitlisten, men også på Billboard – den amerikanske hitliste. Roy fortalte:
"…and we went on our first tour, me and Johnny Cash, Carl Perkins and everybody."
Roy skrev kontrakt med SUN Records i Memphis, Tennessee. Man kan rolig sige han var på vej, og i de næste måneder brugte han tiden på at turnere i staterne med et SUN pakkeshow, der bestod blandt andet af Jerry Lee Lewis, Eddie Bond and the Stompers, Narvel Felts, Carl Perkins og hans gamle ven Johnny Cash.
Han havde allerede glemt, at mellem indspilninger af Je-Wel og hans nylige kontrakt med SUN Records, havde Columbia Records afslået hans demo udgave af Oobie Doobie med bagsiden Miss Fannie, som var en duet med James Morrow. Columbia Records valgte dog at udsende Oobie Doobie alligevel med deres egen Sid King and The Five Strings. De indspillede Orbison klassikeren den 5. marts 1956.
Ooby Dooby/Go!Go!Go! blev udgivet den 1. maj 1956 på SUN 241 og ramte hitlisterne i juni. Her nåede den op som nummer 14 på Rythme and Blues hitliste – næsten op i top ti i USA. Den kom ikke på Country og Western hitlisten, men solgte alligevel et sted mellem 350.000 og 400.000 kopier da den først var kommet ud.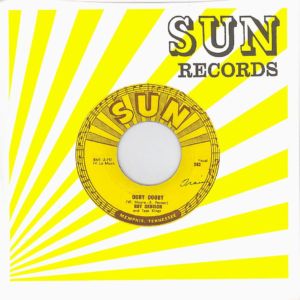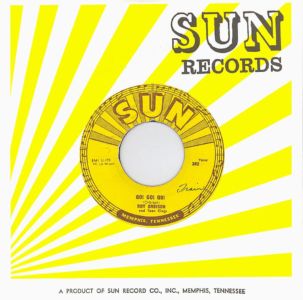 Et pladeblad skrev følgende:
"Ooby Dooby/ Go!Go!Go! – SUN 242

Orbison's spectacular, untamed quality spells big action for both sides on this new disking. The topside is already getting healthy initial reaction and regardless of competition figures to cash in for plenty of loot in the rural sectors. The flip is a wild, swinging country blues with an impressive primitive flavor. Either one here."
Roy begyndte sin sangskriverkarriere i hans tid hos SUN Records og hans Go!Go!Go! viste sig at være et stort hit for hans kollega på SUN Records Jerry Lee Lewis, under titlen Down the Line. Denne sang er blevet indspillet af en lang række kunstnere, der blandt andet inkluderer: Buddy Holly, Ricky Nelson, Cliff Richard, Mickey Gilley, Robin Sinclair og Marty Wilde.
Den næste single You're My Baby/Rockhouse blev udgivet den 24. september 1958 som SUN 251. You're My Baby var skrevet af Johnny Cash to år tidligere, men på det tidspunkt havde Cash ikke mulighed for at indspille den, da han ikke kunne få en kontrakt hos SUN's ejer Sam Phillips. Phillips var ikke interesseret i country sangere på det tidspunkt, men i sensommeren 1956 kom Cash til SUN, og gjorde det stort med hans første single Cry, Cry, Cry og Hey Porter.
Roy returnerede Cash's You're My Baby ved at give ham sangen You Tell Me.
Rockhouse var skrevet af Harold Jenkins – Conway Twitty's rigtige navn. En sang, der skulle gøre det godt for en anden Texaner Buddy Knox i 1957. Det lykkedes Roy at lave en del larm med hans anden SUN single i syden, men den nåede dog ikke samme standard som Ooby Dooby.