Lonely and Blue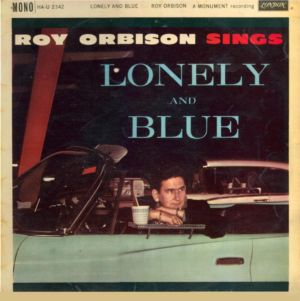 The doo-wah" was once merely a timid little background word which vocal groups threw into a song occasionally just to let you know they were there. But — when Roy Orbison hit the scene with Only The Lonely", he brought with him a proud, different "doo-wah" — in fact a whole new arrangement of "yea-yeas", "dum de-dums" and other pleasing little vocal gimmick which were artfully woven in and out, through and about the solo, in such a way as to producer a brand new effect. An effect which, when combined with Roy's vocal gymnastics made magic. And the magic was a hit record.
In recording circles, an innovation which can produce a number one hit record is not regarded lightly. To fact most recording execs operate on the why change horses as long as this one's inning philosophy. So, obviously another pretty ballad with the gimmick counter-melody was called for. Roy Orbison, being a winning horse lover and also nobody's fool saw the logic in this idea and immediately came up with "Blue Angel", a lovely ballad with a companion counter melody ehockful of ear-catching "shah-lah-lahs", "doobie wahs", and "yip-yips" to match. Needless to say; Bang Bang! they were off, and Roy's winning horse did it again.
It would be an unpardonable oversight to overlook the contribution of Joe Melson to Roy's meteoric rise to stardom. If you will glance at the list of titles which comprise this album, you will sec that Joe's name appears as co-writer on no less than five of the sons. These include "Only The Lonely", and, "Blue Angel". Together, they developed the style of writing which has served as such a perfect vehicle for voice. It is a tribute to their ability as a team that other artists are beginning to latch on to their material.
Roy's handling of the various other songs in this selection will give you an idea of his versatility.
Being a song writer myself, I am familiar with the musical horse race and the thrill of watching a winner come in. I am also familiar with the experience of watching the finish only to discover that I've bet on a dog—which brings me to the point.
I believe that after you listen to the offerings in the album, you will join mc in saying, "There's not a dog in the bunch".
BOUDLEAUX BRYANT