More of Roy Orbison's Greatest Hits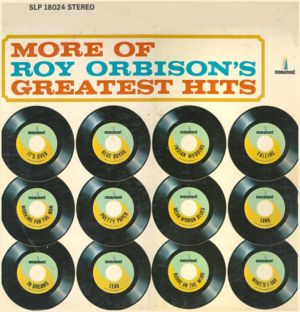 Roy Orbison is possibly the most unusual phenomenon I have ever encountered in music. He has never been in a movie. He has only rarely been seen on network television. He has no press agent hawking his name and his songs in the pages of the fan magazines and the music business magazine.
Yet this man's records have sold well into eight figures.
It is not Roy Orbison's flashy clothes that sell his records; it's not the way he combs his hair, or the headlines he makes or the legends that promotion men weave about artists that sell his records; it is his music that sells his records.
He happens to possess a gigantic vocal range. He happens to be able to sing in a thundering baritone one moment, a sensitive tenor the next. His voice is liquid one moment, dry and arid the next. His sound is always blessed with a rich consistent tremolo.
He happens, also, to be a first-rate song composer. His melodic lines ramble across the usual limitations of a popular song. His chords are striking. Hs words are poetic.
Roy Orbison is living proof that the young American and the young European will go out — silently and deliberately and with little fanfare — and buy the music of an artist who, stripped of the usual gimmickry and glitter, has only his native talent to sell.
Tupper Saussy