There is only one Roy Orbison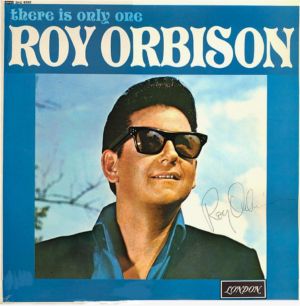 All artists—writers, painters, musicians—need a climate of freedom in which to work. They need time to think and feel and plan. They need time to contemplate the direction their careers are going to take; they need a climate of freedom which will allow them to expand, develop new ideas and concepts.
This is exactly the kind of freedom my signing with MGM Records will allow me as an artist. This, of course, does not mean that I will be neglecting personal appearances here and overseas, for I find meeting people in person a rewarding and stimulating experience. What it does mean is that I will now have the opportunity to move in an even wider circle of activities. I'm now able to devote more time to composition and writing, and to investigate many other areas that interest me.
I think you'll find a number of the songs in this album, and the way in which they are played and sung, reflect this new climate of freedom. I feel that this album is an expression of new things to come. I hope you agree.
Sincerely,
Roy Orbison