The Exicting Sounds of Roy Orbison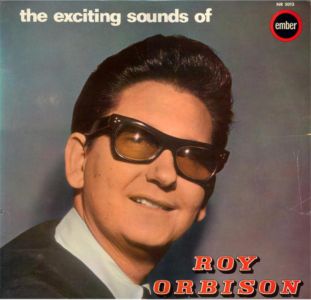 The pop music world is full of changes. Styles come and go. Reputations and achievements are skittle in the hit parade merry—go—round, stars of today often admit that they are worried about the future. Permanent success is difficult to attain.
Relatively few singers carve themselves a regular niche in the best-selling Iists as years go by. Roy Orbison is one of the most spectacularly successful of pop stars in the world, and his legions of fans eagerly snap up every record he makes.
He has scored huge hits with such records as "Only the lonely", "In dreams", "Falling", "Blue bayou", "It's over", and "Dream baby", and is now firmly established near the top of internationally acclaimed entertainers.
Roy Kelton Orbison was born in Vernon, Texas, on April 23, 1936, and is a gifted songwriter who has provided material for stars like Buddy Holly and Jerry Lee Lewis as well as himself.
Before entering show business professionally, he was educated at Wink, Texas, High School, and as he entered his teens he was the founder of a singing group called the Wink Westerners.
He had made his radio debut in his Texas home town at the tender age of eight, and since those humble beginnings he has gone on to gain fame on the most important radio and TV shows in the world — as well as captivating his audiences at concerts in Britain and America.
As his music career gained speed, many other artists were quick to record songs he wrote, among them the Everly Brothers, Burl Ives and the late Patsy Cline.
Roy's name in Britain is synonymous with success, and he has established himself as one of the few performers capable of going on stage and reproducing exactly the same big, dramatic sound that has helped to project his records into the distinctive category.
His favorite singers are Elvis Presley, Buddy Holly and Dean Martin.
It is difficult to pinpoint Orbison's appeal, for his popularity with fans, he insists, stems from his music alone, and has little to do with personality He is quiet and friendly, but possesses no phony "star—gloss" flashiness.
Perhaps one of the biggest factors in his favor as a big record seller is the fact that he is instantly recognizable on every song he has sung.
"I believe", he says, "that the people who buy my records and see my shows feel that I am putting effort into performance. They feel rewarded.
"They see it as a genuine attempt to entertain them… I guess they just like the songs I sing and the way they are put over".
So much for the unassuming characteristics at the singer. What of the songs on this album?
The LP contains a dozen tracks which no Orbison collector can afford to be without. The material ranges from raucous rock 'n' roll to plaintive country—and—western, and provides evidence of the star's versatility.
Side One kicks off with "This kind of love", an up—tempo number with a tinge of bossa nova, then goes into "Devil doll", with the words telling a story.
"You're my baby" features some fast guitar runs and is a song that could easily have come straight from the hit parade. It has a pile driving finale and spirited Orbison vocal.
"Trying to get to you" is a nice contrast, with its country—style atmosphere ideally suited to Roy's big voice. There's some pretty piano work in the back—ground, too.
"It's too late" is a sad tale of lost love, and the side ends with a happy twister, "Rock house".
The second side's opener, "You're gonna cry", has the impact of "breaks" in Roy's vocals, interspersed with some nifty guitar runs. After the dramatic "I never knew" comes "Sweet and easy to love", a romance story delivered at full revs and with infectious rhythm.
"Mean little Mama" is a fast track from the heyday of rock 'n' roll. "Ooby dooby", which was a solid hit for Roy in the States, contains some daft words tailored simply to match the tempo of the song. Finally, "Problem child", a belter in the rock idiom, or, as Roy says, "a shaking spree".
RAY COLEMAN "MELODY MAKER"