Roy Orbison At The Rock House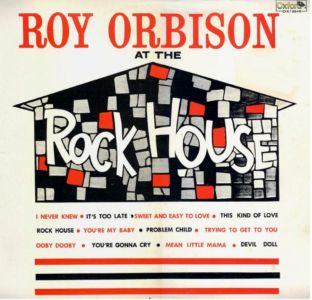 Roy Orbison, a guy with a real taste for work when it comes to music, has proved that he has what it takes. Roy has been in the music business a long time, to be a young man, and has had a reasonable degree of success from the beginning both as an artist and writer.
Between his first record successes, "Ooby Dooby", "Go Go Go", "Devil Doll", etc., and his present spiral to the gold record orbit, Roy lost no time in writing good material for other artists.
I'm sure you will hear more of this side of him in the future — a real talented young man.
Roy was born in West Texas. He cut his teeth on the Presley, Carl Perkins, Johnny Cash early era and has steadily progressed along this category that has so richly enhanced the music industry of today.
You will find in this album a collection of Roy's adventures on the Sun Label. We believe you'll find it to be a real "Rock" house for dancing and listening. It gives us great pride to present a real talent great, along with a real fine boy — Roy Orbison!