Roy Orbison Sings Don Gibson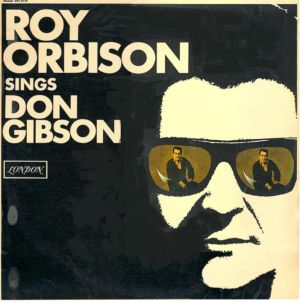 Roy Orbison has been recording just about 10 years. In this relatively brief span the artist-writer (he is greatly talented as a songwriter in addition to his vocal excellence) made his mark as an international show business name. His records have been well up on the best-selling charts in England, Canada and on the continent, just as they are in the United States, and his personal appearance tours have been triumphant. Orbison is—in a large sense—an international ambassador of music, and his career illustrates the theory that today's music business is an international one; that an artist—and a songwriter—now has the entire world for a market. In this new album, Orbison lends his distinctive vocal style to twelve songs written by Don Gibson, one of today's leading songwriters and himself a skilled vocal artist. Both Orbison and Gibson headquarter in Nashville, Tenn. They are friends and they have a deep understanding of each other's musical skills. Both feel that a song, to be effective, must spring from true personal experience—a song's motivating force is authentic emotion.
Perhaps it is just this outpouring of "authentic emotion" that accounts for the enormous success that Don Gibson has had with five of the songs heard in this album; (I'd Be) A Legend In Time, (Yes) I'm Hurting, The Same Street, Too Soon To Know, and Lonesome Number One. The mutual understanding between Orbison, the artist, and Gibson, the writer, is the perfect blend that makes possible an outstanding album. It is the kind of artist-writer relationship which a record producer often seeks, but only occasionally achieves. The results of such a fortunate blend are in the grooves of this disk—great performances of outstanding songs smartly arranged by Bill McElhiney and produced by Wesley Rose and Jim Vienneau. These sides are performances of songs with which everyone can identify, because they are songs which mirror life's realities.
Orbison, who grew up in the oil town of Wink, Texas, was taught the guitar by his father. In his teens he led the Wink (Texas) Westerners and performed over radio station KVWC, Vernon, Tex. When he was 16 he was chosen to represent the Lone Star State at the International Lions Convention in Chicago. For a time Roy attended North Texas State College, majoring in geology. At school he met Pot Boone, whose success as a record artist influenced Roy to seek a similar career. His first disks were made on the Sun Label under the guidance of Sam Phillips, the Memphis, Tenn., record executive who discovered such eminent talents as Elvis Presley, Carl Perkins, Johnny Cash and many more.
Both Memphis and Nashville as musical centers have been major influences in Orbison's development; and his musical style mirrors these influences in his treatment of ballads, blues and rhythm songs. The artists and musicians of these cities—Memphis and Nashville—changed the sound of American music in the post decade; and Roy Orbison contributed significantly to this phenomenon.