The Orbison Way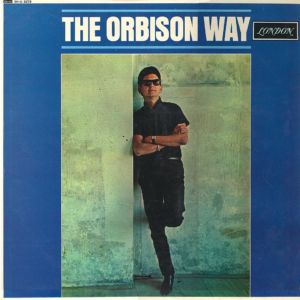 "Roy Orbison is to popular singing what Willie Mays is to baseball and Johnny Unitas is to pro football." Someone, a sports fan, obviously, struck on the similarity between these two great athletes and one of the country's greatest popular singers—it may sound a bit odd at first, but after you think about it for awhile it makes a lot of sense.
All three of these first class stars share natural talent—an enormous amount of it. All three have such an abundance of natural talent and use it so well, that they make the hard things look easy. All three are also keen students and practitioners of their professions. They constantly sharpen and perfect their talents so as to get greater and greater results.
The Orbison sound and style are emotional and dramatic both in performance and on the finished record product. This is no accident; a musician who has played on most all of the Orbison recording sessions evaluates Roy this way: "He sings without apparent effort—casual and relaxed for certain, but I'm sure he strives for perfection." In short, Roy works hard while making it look easy.
Emotion is the outstandingly important ingredient in the Orbison delivery. Since Roy sings mostly ballads, his songs must strike a responsive chord in the listener—time and time again that chord is struck as he reaches his audience emotionally. His songs are mostly stones of everyday life. They reflect the things people feel at poignant moments in their lives. Emotions any listener has experienced and can understand.
When he isn't recording or appearing in person around the world, Roy Orbison writes songs. Just to prove the point, Roy is co-author on no less than nine of the twelve tunes in this album.
As it is now, he hardly gets a chance to spend much time writing his own material. "What happens," he says, "is that I carry a good many ideas for tunes around in my head all the time, and then sit down either by myself or with someone like Bill Dees and work them out on paper. Bill and I have been working together for about two years. We completed the mechanics of writing these songs in about a week. But of course we had had the ideas for them going for a lot longer than that."
Roy was especially pleased with the way this session turned out. He said he felt very good singing with the arrangements and the instrumentation provided on this album. "On several of these tunes we have a big orchestral sound as background—about 25 musicians and voices backing me up. The sound is wonderful."
The sound is wonderful. And, as one friend commented as he heard the tape playbacks of the recording sessions: "Roy, you are singing better than ever. I believe this is going to be your best album."
"Well," Roy said, "you hope everything you do is the best, or at least better than what you've previously done." He paused and smiled before continuing. "Anyway," he went on, "the ideal audience is your friends."
Red O'Donnell, The Nashville Banner