Jeg har været i arkivet og fundet denne sjove og interessante artikel frem, som jeg oprindeligt udgav for nogle år tilbage. Se også video og billed nedenfor!
Til den mange fans har jeg i år en rigtig spændende julegave! Tilbage i 1969 indspillede Roy Orbison sangen Penny Arcade. Det var en noget anderledes sang, hvis man sammenligner med det Roy havde indspillede tidligere. Sangen var skrevet af Sammy King. Jeg har været i kontakt med Sammy igennem noget tid, og til min store overraskelse indvilgede han i at skrive lidt om hvordan han mødte Roy, og hvordan Penny Arcade ente med at blive en del af Roy's koncert repertoire.
To the many Roy Orbison fans. Here is the story behind Penny Arcade told exclusively for www.Orbison.dk by the Sammy King.

MEETING ROY ORBISON
When I set off to meet Roy Orbison for the very first time my feelings were a strange mixture of excitement and anxiety. A good friend of mine had arranged for me to meet him at the Batley Variety Club where he was appearing. Like any fan I knew I would be overwhelmed to even be in his presence but the thought of actually asking him to listen to some of my work….I was really nervous.

But I needn't have worried. His quick smile and soft "hello" put me at ease straight away. His charm and manner compounded my long standing theory 'the bigger the star – the nicer the person' was true.

After a few formalities I mustered the courage to ask him if he would listen to a song or two and maybe give me a few tips or tell me if I was writing along the right lines.

He said that, as he was about to go on stage, he hadn't time to listen at that moment but he was going to dinner at a nearby restaurant after the show. So if I'd like to pop in and see him there afterwards, he would be glad to.

I was floored!

I can't remember much about the time between that moment and walking into the restaurant after he'd finished dinner – I was in a kind of trance. But I was soon shocked out of it when I realized that I wouldn't be just playing my songs to the man himself.

After my friend Bill (who had helped me to record the demo tapes) began to set up the tape recorder, I became aware of seats being set up around us. Having fully expected Roy to sit in a quiet corner and listen through headphones, it was now becoming patently obvious that this wouldn't be the case.

My humble efforts were going to come under the scrutiny of Roy's band, his entourage, his wife, manager and friends too!

I had only intended to play two of my songs to him so I consoled myself with the knowledge that my ordeal would only last five or six minutes anyway.

The first track – a slow ballad called 'After Tonight' I thought 'might' meet with his approval but my hopes were dashed when his wife Barbara said straight away that it 'wasn't really Roy'.

"Fair comment" I thought. After all, no matter how good I thought the song was it's how it is 'received' that really counts.

I played the next track 'I Got Nothing' and sensed that my audience was beginning to lose interest but to his credit after it had finished Roy asked if there was anything else on the tape. I nodded and he said "Just leave it running" and he listened to the remaining four tracks.

The last track – Penny Arcade – I would never have played to him in a million years. It was an up-tempo bouncy type song I was intending to enter for the Eurovision Song Contest and not the type of song I could see him taking any interest in at all.

When it had finished Bill and I began to pack our things together. The tape was winding back and I have to admit that I didn't think my work had created much interest. Nevertheless as Roy came towards me I thought at best he might offer me a few song-writing tips.

To my utmost surprise Roy asked if he could have a copy of the tape. He said he was going back to Nashville soon and he would like his recording manager Wesley Rose to hear it.

Unbelievably within six months I got word that Penny Arcade was to be Roy Orbison's next single.

Many years later I learned that Roy himself insisted on recording it – against everyone's advice. His son, Roy Kelton Junior, told me – at a recent band reunion – that his father believed it had a magical quality to it that no one else (including me) could see.

He was right too – it got Roy's career back on track and is still being played and enjoyed all over the world today – forty years after that historic meeting!

Sammy King 2011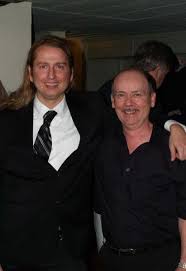 Den skotske fodboldklub Glasgow Rangers har igennem nogle år haft Penny Arcade som en fast del af programmet!
Og her Sammy King selv